Me from the TwentyEA blog :-
It seems to us at TwentyEA that this is less than half the story – what about what happens after the listing is won? 
Let's take three agents;
Agent 1 on average "over values" (and we know that the idea of fair value before a sale is something of an abstract one) by 10% and then discounts by 20% to sale. The vendor gets less than fair value.
Agent 2 also routinely over values by 10% and then typically discounts by 5% to get the sale. Here the vendor gets appreciably more in their pocket after the house is sold.
Agent 3 values at fair value and sells the property for that price.
There might be reasons why Agent 1's strategy is a good one – perhaps a super quick sale needed – but in the main Agent 2's strategy would be the one that most sellers would prefer.
What about Agent 1 versus Agent 2? Harder to call – for every buyer that "over pays" there is a seller on the other side who might be a customer one day.
In our data we can see agents who are typical Agent 1s, 2s and 3s.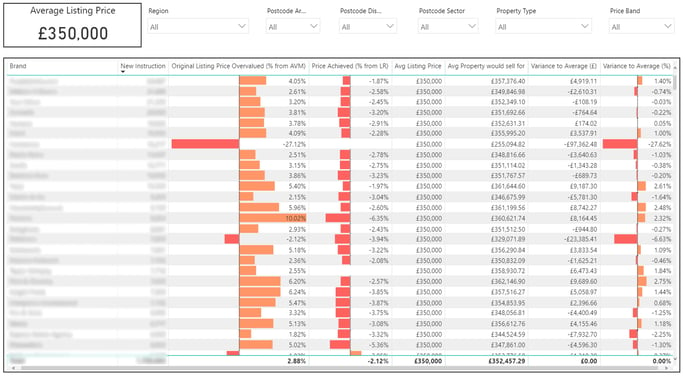 TwentyEA have built tools (which were used to produce the screen shots above) that help estate agents and property professionals understand the markets that they work in. For more details please visit www.twentyea.co.uk.